Register
Registration Options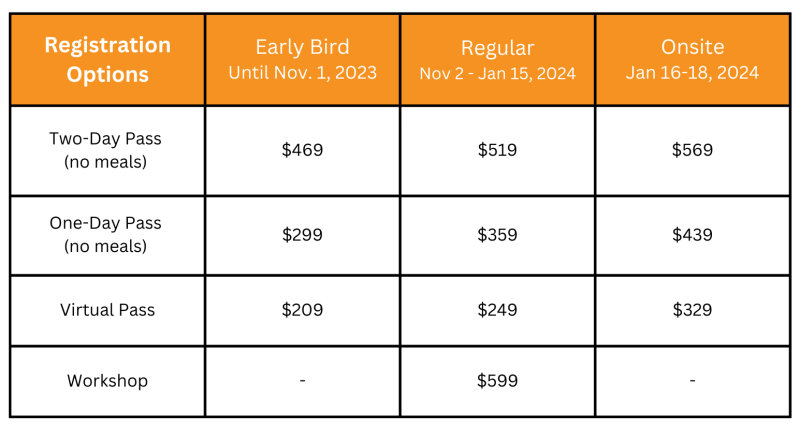 Learn more about the workshops here.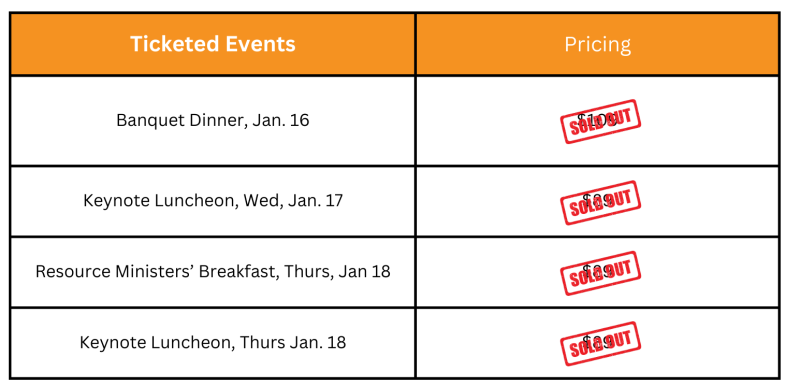 All ticketed meal events at the Forum have reached maximum capacity and are currently sold out. In the event that additional tickets become available, allocation will be based on our established waitlist. To secure a place on the waitlist, register each individual you wish to attend through the registration system and add them to the respective meal waitlist.

Please contact us at moc.murofsecruoserlarutancb@ofni for exhibitor inquiries.
Prices subject to GST.
_________________________
Accessibility: The BC Natural Resources Forum is committed to accessibility for persons with disabilities.
Please contact us at moc.murofsecruoserlarutancb@ofni in advance of the event if you have any particular accommodation requirements. We will work with you to make appropriate arrangements.
Who Should Attend?
Everyone interested in learning more about natural resource sector projects and developments in British Columbia:
Indigenous leaders, Band staff and economic development and resource personnel
Business and resource planning, management
Engineering, environmental consultants
Economic development personnel
Government personnel involved in resource development, planning, permitting
Executives, project managers and staff involved in natural resource development (LNG, Oil & Gas,Renewable Energy, Mineral Exploration and Mining, Transportation, Service, Supply and Procurement opportunities)
Media Accreditation
Media accreditation is reserved for qualified journalists who meet the conference media registration criteria. Applications for media credentials will be accepted from journalists employed by or on assignment from recognized print, broadcast, and online general and natural resources related news media.

To be accredited, we reserve the right to request the following validations before granting accreditation:
• Recognized Media or Press Card
• Letter of assignment on official letterhead from the Editor or Bureau Chief
• Sample by-lined article published within the past six months, or current masthead that includes the reporters name & title, or official letter of assignment from a media outlet.
Accreditation applications from advertising personnel and media sales representatives will not be accepted.
Complimentary registration (no meals included) is provided to qualified journalists who meet the conference media registration criteria on a space-available basis.
To apply for media accreditation, contact Nicole Vanderfleet at ac.procecnailla3c@teelfrednavn
Payment

All prices are in Canadian dollars ($ CAD) and are subject to applicable fees and taxes (5% GST). If you any questions related to registration, please email the BC Natural Resources Forum via moc.murofsecruoserlarutancb@ofni.

Tax Exempt

If you are tax exempt, please send tax exemption certificate and tax number to moc.murofsecruoserlarutancb@ofni so that we can confirm your eligibility for exemption.

Refund Policy

Prior to and including December 16, 2023, any cancellation will be charged a $75 processing fee. There will be no refunds for cancelled registrations after December 16, 2023. Substitutions will be allowed. Any stop-payments will be subject to a $75 processing fee.